&nbsp &nbsp I was invited to attend the Thomas Crapper Grave Re-dedication Ceremony in England that took place on May 4, 2002. I was unable to attend but here is what happened at the ceremony: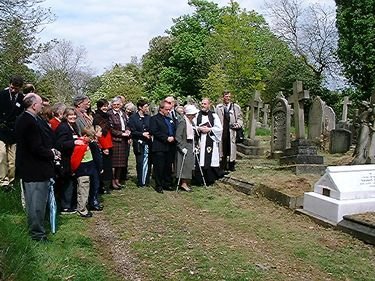 Over 30 attended, many by the name of Crapper, including one actual Thomas Crapper, a Major in the Royal Signals. The event was acclaimed as a great success by all participants. Revd. Carpenter had succeeded in finding a reference to a 'cistern' in the Bible and duly read it to the assembled company around the grave. This was followed by prayers and a brief address from Simon Kirby, owner of Thomas Crapper's original firm. The sun shone from a clear-blue sky on the gleaming white marble of the tomb, restored by Thomas Crapper & Co..


After the short service, some went to inspect Mr. Crapper's last house, complete with blue plaque; some walked around the cemetery. Other notable Victorian 'residents' include W. G. Grace, the great cricketer, Frederick Wolseley, who produced the first British motor-car and Samuel Rowbotham, founder of the Flat Earth Society. Next the celebrants traveled to the nearby Bromley Court Hotel for a champagne toast to the immortal memory of Thomas Crapper!




Present were representatives of Messrs. Twyfords, Royal Doulton and Spode. Telegrams were read aloud from Armitage Shanks Ltd., Dr. Adam Hart-Davis, Lucinda Lambton and other interested parties from around the world. These last include owners of bathroom-related American web-sites and Mr. Ken Grabowski, author of the forthcoming definitive biography of Mr. Crapper.





Flash-bulbs popped, toasts were proposed and names and addresses were exchanged - for most of the Crappers had not met before. Many brought photocopies of their family trees and together they discovered to what extent they were related.














Simon Kirby then presented a brief history of the man and the surviving firm, illustrated by slides of old black-and-white photographs. Following this, the buffet, cake and champagne were consumed in a lively atmosphere as stories were elicited and offered in great number by all present. Some Crappers stayed at the hotel and continued the celebrations until the early hours!





It was a thoroughly enjoyable and worthwhile day; also a mark of respect for one of our great Victorian pioneers to whom we all owe so much.











At some point we will organize another 'flush' of Crappers and Crapperologists - the centenary of T.C.'s death is 2010 but I am not sure we can wait that long!

&nbsp &nbsp To contact the Thomas Crapper & Company, use the following information:


Thos. Crapper & Co.
Tel.: +44 (0) 1789-450 522.
Fax: +44 (0) 1789-450 523.
Send Email!
Check out their Web Site!




Return to the Top
---
&nbsp &nbsp What else can you see in the images shown? Many times a photo is worth a thousand words and I've only elaborated with a few so why don't you add some "color commentary" to my collection. If your addition is worthy, you will find the quote added on the Comments to the Curator page.
---
Have you seen all the Outhouses yet?

Return to the Outhouse Tour by clicking HERE!
---
Stamp here to "dump" mail to the official Outhouse Curator...

---
Return to my home page
Return to the Top
---
Copyright © 2002
This Home Page was created on May 14, 2002