Follow us on Twitter

Quaker stone Outhouse attached to a structure seen to the right in the picture
Photo taken by Don L.
Used with permission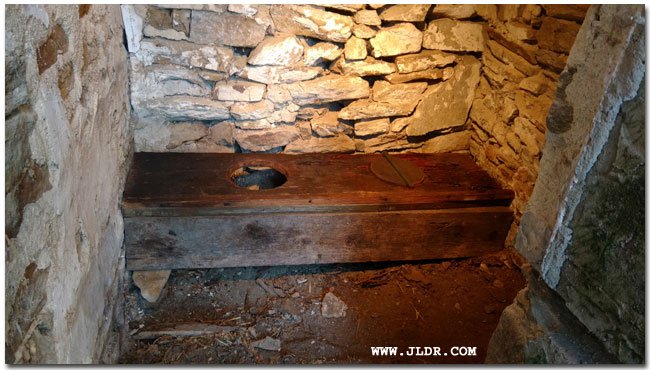 Inside the Quaker stone outhouse
Photo taken by Don L.
Used with permission
---
First Don left me a voice mail using out contact phone number. I called back and left voice mail. After several attempts to send me the pictures, they finally came through and they were well worth it. Here is what he had to say...
Do you have any information on Ouaker built stone outhouses. We have a 1787 Quaker stone house in Maryland. Don
I have a nephew who is a Quaker so I sent him an Email. After waiting for a while, he finally sent the following response: "Sorry, nobody I asked knows anything about historic Quaker buildings."
And so, even though we have no information about the history behind outhouses that the Quakers may have built and used, Don here has living proof that they did exist and were used.
Thanks for visiting the Outhouses of America Tour web site.
---
What else can you see in the images shown? Many times a photo is worth a thousand words and I've only elaborated with a few so why don't you add some "color commentary" to my collection. If your addition is worthy, you will find the quote added on the Comments to the Curator page. For additional comments, begin on this page and click the links to see all the years...
---
Have you seen all the Outhouses yet?

Return to the Outhouse Tour by clicking HERE!
---
Stamp here to "dump" mail to the official Outhouse Curator...

Return to my home page
Return to the Top
RECOMMEND THIS SITE TO A FRIEND!
---
Copyright © 2016


This Page was created on October 3, 2016